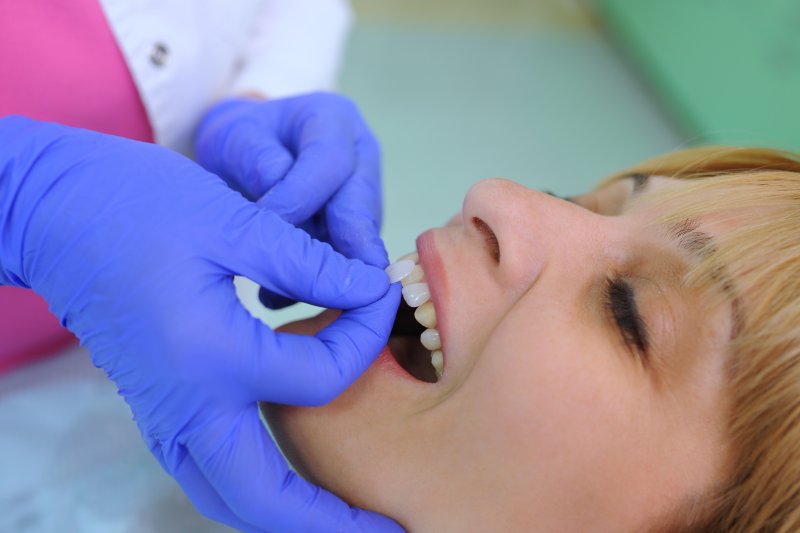 In cosmetic dentistry, dental veneers are one of the most effective procedures. That's only natural – these porcelain shells can hide many smile flaws! Still, there's something you should know: placing them involves enamel removal. More specifically, the dentist has to shave bits of your teeth for veneers to work. As for how much enamel is taken, your local dental practice can explain. Here, then, is how the veneer process works, why it removes enamel, and how much of this tooth layer it takes.
What's Involved in the Veneer Process?
For better or worse, you can't get veneers in just one appointment. You have to undergo a "prep visit" before the actual placement.
Per its name, this first visit prepares your teeth for the veneers. It mostly has the dentist remove bits of the treated area's enamel. Before the appointment's end, though, an impression of the prepped teeth will be made and sent to a dental lab. (Technicians will use this mold to craft your prosthetics.) You'll then receive temporary veneers to wear for a few weeks.
When your final veneers are ready, you'll return for the placement. This second visit lets the dentist apply your new shells onto your teeth. Following some last-minute adjustments, your transformed smile will be ready for the world!
Why Does it Remove Enamel?
Simply put, dentists must remove some enamel before veneer placement. Treatment just wouldn't work otherwise.
First of all, the removal ensures veneers stay secure. Scraping away enamel bits creates a bondable surface for the shells. As such, you can trust your veneers won't fall off over time.
At the same time, taking off some enamel keeps veneers from looking bulky. The shells, you see, would look unnatural if that step was skipped. The resulting smile wouldn't look better; it'd simply seem different.
How Much Enamel is Taken?
True, the enamel removed by veneer prep is gone forever; it won't grow back. Even so, there is an upside: not much enamel is taken. That's the only reason dentists willingly place veneers at all.
To be exact, prep work for veneers only removes 0.5mm of enamel. This amount ensures treated teeth stay intact, even as the shells can lay flat against them. Furthermore, dentists only need to remove this much to create a smooth surface that works with your bite.
As you can see, enamel removal for veneers isn't harmful. Therefore, consider booking your own treatment in the coming days!
About the Author
Dr. Mark. W. Jacob is a dentist based in Deerfield, IL, having earned his DDS from the University of Illinois' School of Dentistry. He's also a member of the Illinois State Dental Society and the American Dental Association. Given this background, his specialties are preventive, cosmetic, and restorative treatments, as well as emergency smile services. Dr. Jacob currently practices at his self-titled clinic and is reachable on his website and by phone at (847)-564-2180.