Dental Implants – Deerfield, IL
Modern, State-of-the-Art Tooth Replacement
Dental implants have become one of the most highly recommended treatments for replacing missing teeth because they offer such a wide array of unique benefits. Whether you're missing one tooth, several teeth, or all of them, this revolutionary procedure can help restore the entirety of your smile from the roots upward. To learn whether you're a candidate for dental implants at our Deerfield, IL dental office, call us today to schedule a consultation at Mark W. Jacob, DDS, PC.
Why Choose Mark W. Jacob, DDS for Dental Implants?
Start-to-Finish Dental Implant Treatment
Titanium & Zirconia Dental Implants Available
On-Staff Periodontist & Prosthodontist
What are Dental Implants?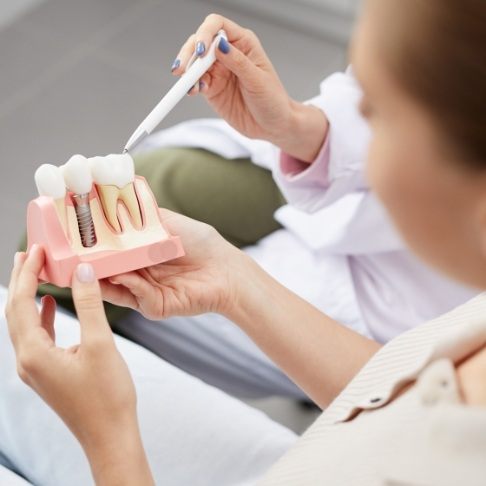 Dental implants are small posts that are typically made from titanium or zirconia that are surgically placed below the gumline into the jawbone. This allows them to replace the root structure of missing teeth. Due to their biocompatibility, they can fuse with the jawbone through a process called osseointegration, providing an extremely strong base for the new tooth to be attached to.
The 4-Step Dental Implant Process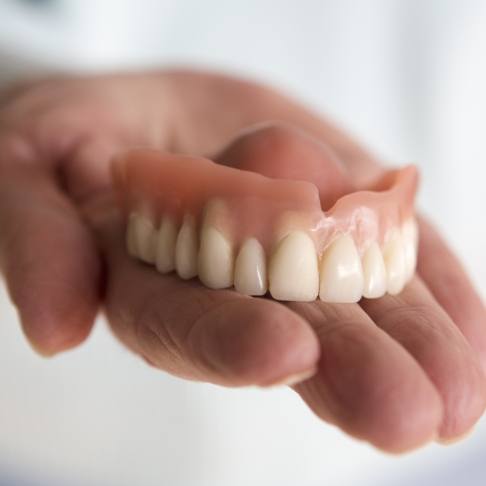 Initial Consultation. Dr. Jacob will take X-rays and examine your mouth to help determine whether you're a good candidate for the procedure.
Dental Implant Placement. Dr. Jacob has advanced training that allows him to place the dental implants himself, so you won't need to worry about visiting a different specialist for this part of the procedure.
Osseointegration & Abutment Placement. Over the next three to six months, your implants will fuse with your jawbone. When this is finished, we'll attach small metal connector pieces called abutments to the top of your implants.
Attachment of Restorations. As soon as our team receives your permanent restoration, we'll call you back in to attach them to your abutments to complete your smile.
Benefits of Dental Implants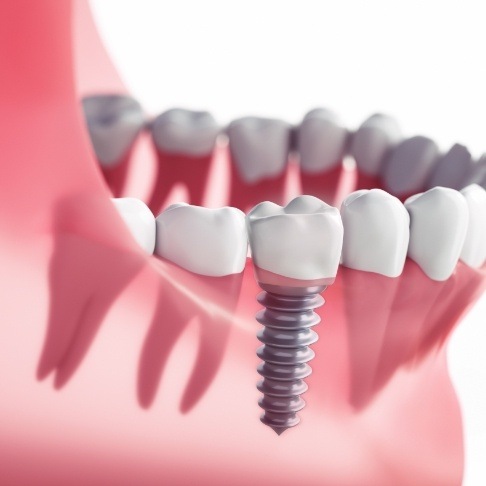 Dental implants are distinguishable from all other restorative treatments because they replace the root structure of missing teeth. This is why they're able to prevent jawbone deterioration and are just as stable as real teeth. With the proper maintenance, they're able to last for up to 35 years, which is four times the average lifespan of traditional dentures or bridges.
Ways Dental Implants Can Help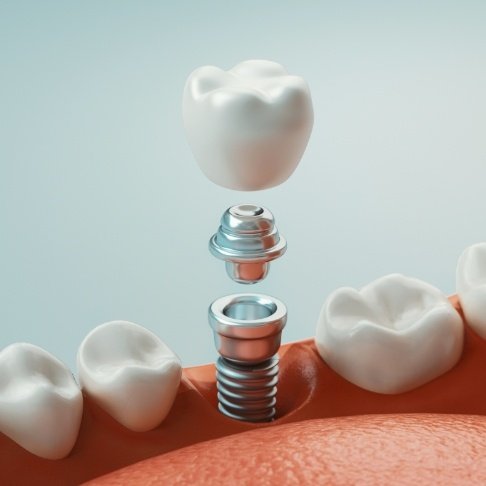 During your initial consultation, Dr. Jacob will examine your mouth to determine whether your jawbone is sufficiently strong and healthy to support dental implants. If not, you make require a procedure like bone grafting, a sinus lift, or periodontal therapy. After your exam, our dentistry team will outline a customized tooth replacement plan for you, so you'll know exactly what to expect throughout the process. There are a few different ways we can restore your smile depending on how many teeth you're missing:
Missing Single Tooth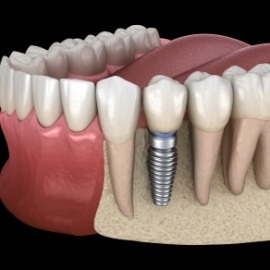 For one missing tooth, we can place a single dental implant in the gap. Then, we'll secure an abutment to the top of it, followed by a customized, natural-looking dental crown.
Missing Multiple Teeth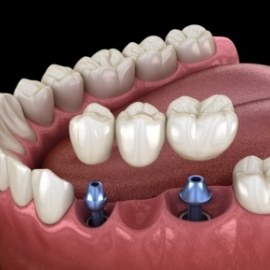 Traditional dental bridges require the alteration of your natural teeth to be secured within your mouth. With an implant bridge, we can attach the prosthetic to two dental implants placed at either edge of the space, preserving your tooth structure. This setup also gives the bridge more durability compared to a traditional one.
Missing All of Your Teeth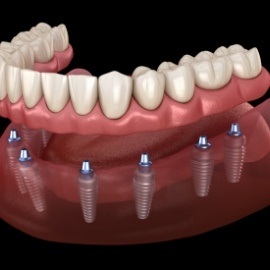 Instead of relying on adhesive and natural suction to keep your denture in place, you can have it attached to your jaw using four to eight dental implants. This will provide you with enhanced biting power and added stability.
Understanding the Cost of Dental Implants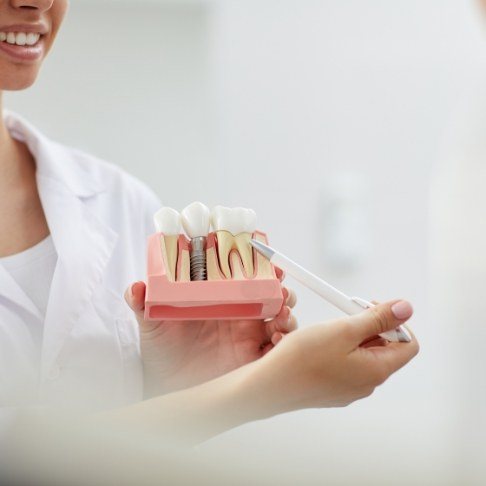 Every dental implant procedure we perform is customized to suit a patient's unique needs. That means that there's no set cost of the treatment because it's dependent on a variety of factors, like how many teeth you need to have replaced. During your initial consultation, we'll walk you through a price estimate and breakdown the cost for you.