Veneers – Deerfield, IL
Making Your Dream Smile a Reality
Do you have dental stains that you just can't seem to get rid of? Has your enamel been chipped or slightly cracked? Are there small gaps between your teeth? There are all kinds of reasons why you might be dissatisfied with your smile. Luckily, Dr. Jacob has a cosmetic solution that can help you make multiple corrections at once: dazzling, personalized veneers. Give our Deerfield office a call today if you'd like to know more about this treatment and how it can help you get the smile you want.
Why Choose Mark W. Jacob, DDS, PC for Veneers?
Dentist with Over Three Decades of Experience
Long-Lasting, Highly Durable Materials
Financing Available Through CareCredit
What Are Dental Veneers?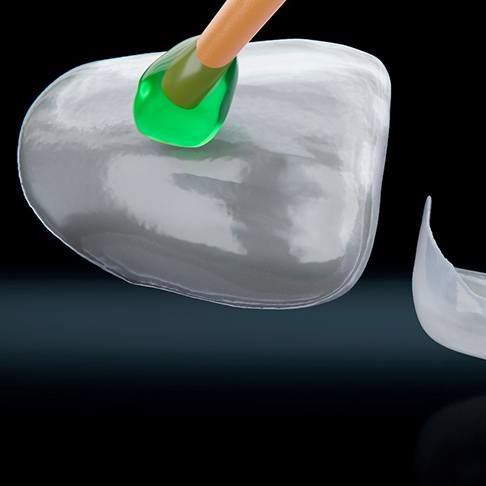 Veneers are thin shells made to cover the front surfaces of your teeth. Most of the time, they're made out of porcelain since it's a stain-resistant material that can easily be shaded to match your enamel. When veneers are placed on your teeth, they can hide multiple cosmetic flaws at once. For this reason, we may suggest veneers if there's more than one correction you want to make to your grin. In just two appointments, we can address discoloration, minor damage, gaps, misshapen teeth, and a number of other flaws.
The Process of Getting Veneers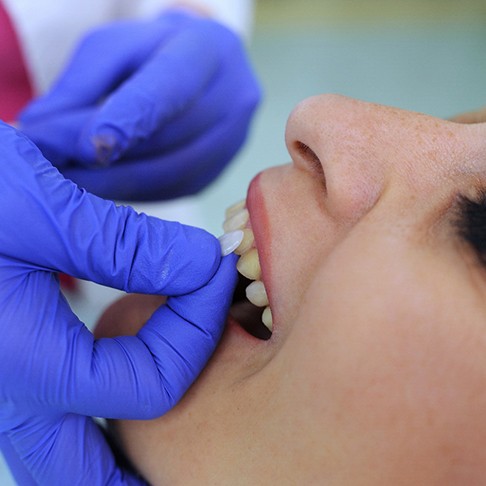 You can take the first step in getting veneers by scheduling an appointment at our office. We'll ask about the improvements you want to make and answer any questions you may have about the available treatments. After we've examined your mouth, we can discuss whether or not veneers are a viable choice for you. Once a decision has been made, we can start putting together a treatment plan.
To prepare your teeth for veneers, some enamel will have to be removed. This helps maintain the proper amount of tooth thickness even after veneers have been placed. When your teeth are ready, we can capture an impression of the current state of your smile.
Over the course of a couple of weeks, your veneers will be crafted at a separate laboratory. Your prepared teeth will need protection during this time, which is why you'll be given temporary veneers to wear.
When your veneers are ready to be placed, you'll return to our office. We might have to adjust the veneers slightly to optimize their fit and appearance. Then we'll gently attach the veneers to the teeth that need improvement.
The Benefits of Veneers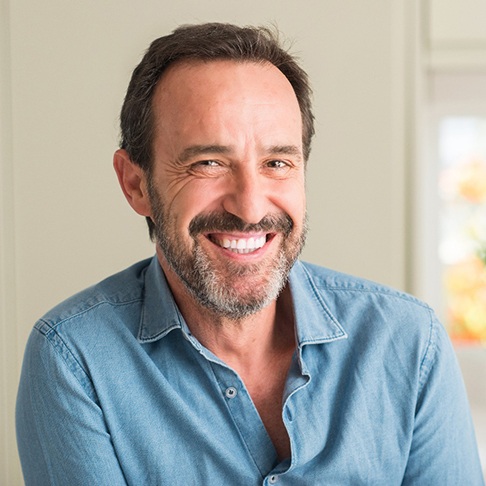 Veneers stand apart from other cosmetic treatments for a few different reasons. For one thing, they are extremely versatile and allow us to make multiple corrections at once. They're also minimally invasive since we don't have to remove much enamel to make room for them. Thanks to the material they're made of, veneers are very durable; most of the time they have a lifespan of around 10 years, and they can sometimes last even longer if they're well cared for.
Understanding the Cost of Veneers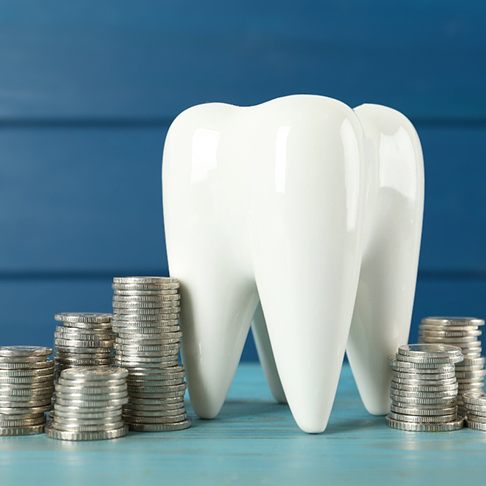 You may want to get veneers for your smile. After all, they can make your teeth prettier than ever before! Even so, there's a good chance you're worried about the price. Treatment won't make sense if the cost of veneers is too high. Fortunately enough, Dr. Jacob and his team will help you navigate the expense. In particular, they'll guide you through our office's procedures and payment options to ensure budgeted care. Keep reading to learn how that would work, or call us for details.
Cost vs. Cosmetic Dentistry: What's Right for Me?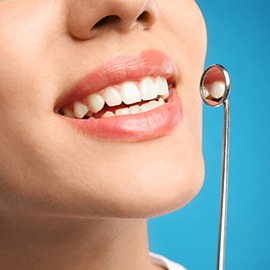 Besides veneers, our practice offers several other cosmetic services. You'd do well to consider them before pursuing treatment, especially given their varying costs. To that end, consider those listed below:
Gummy Smile Reduction – Also known as gum recontouring, this option helps with so-called "gummy smiles." It works by removing excess gum tissue, a process that makes your grin look balanced. While its results are cheap and permanent, recovery can take days or weeks.
Cosmetic Dental Bonding – Dental bonding uses tooth-colored resin to hide smile flaws. Overall, it's especially good at covering minor chips and stains. However, do note that its results aren't long-lasting.
Teeth Whitening – Using special bleaching gel, this treatment removes stubborn stains from tooth enamel. As a plus, it also acts quickly. Still, it has a moderate price and only affects tooth color.
Metal-Free Dental Crowns – Tooth-colored crowns protect teeth and help them look better. Plus, those used by our office are biocompatible and thus gentle on teeth. Nonetheless, such crowns are a bit pricey.
Porcelain Veneers – Veneers are thin shells placed on the fronts of teeth. Typically, they hide various smile flaws – chips, cracks, stains, dental misalignment, etc. In exchange for such versatility, the shells can be pretty expensive.
How to Make Veneers Affordable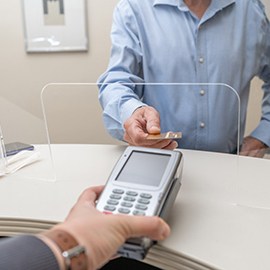 Granted, dental insurance doesn't usually cover veneers. It often views the shells as purely cosmetic and elective. Exceptions exist, however; some policies will cover veneers if they protect a damaged tooth. So, remember to discuss benefits with your insurance provider before treatment. We'll help out with that step if you need it.
Thankfully, insurance isn't the only way to make veneers affordable. Our office just so happens to offer the following:
In-House Membership Plans – By paying a low annual or monthly fee, our office will give you (among other things) a discount on non-preventive treatments.
Flexible Financing – Our practice provides additional financing through CareCredit, a third-party financier. Through them, a patient can pay for care in monthly installments. You could then cover the veneers' cost gradually.
Ultimately, you can trust Deerfield dentists for veneers at budget-friendly prices. So, book a consult visit with us in the coming days!